[feather_share]
Arik Strauss has released his fourth CD "Mostaly Balads" on Dot Time Records in December 2012.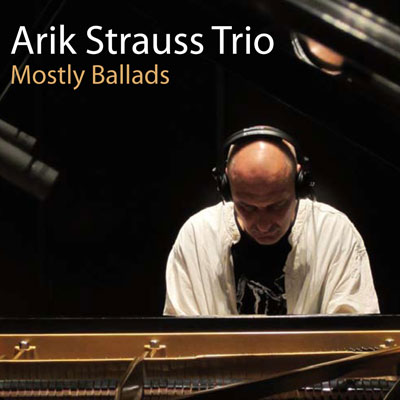 Mostly Ballads DT9015
"Mostly Ballads" is the fourth CD from pianist, composer and arranger Arik Strauss and his debut on Dot Time Records. Arik has performed throughout the USA, Japan and Europe with musicians including, among others, Ron McClure, Akira Tana, Shonzo Ono, Montigo Joe and Mercer Elington. Arik has returned since to Israel and in 2010 was granted an artist in residence scholarship by Israel's Ministry of Culture and Sport for a six month residency at the Paris Cité Internationale des Arts. As an educator, Arik initiated a jazz program at the Givaataim Conservatory and holds a teaching post there. "Mostly Ballads" is a classic jazz piano trio recording featuring Tal Ronen (contrabass) and Dudu Kochav (drums) and features ten of Arik's original compositions.
In the liner notes Arik stated that "A piano trio recording is something that I've had on my 'to do list' for some years now, a goal which I have finally had the opportunity to realize." Production of the CD was made possible through the support of ACUM's social and promotion fund. The repertoire recorded on this CD mostly stems from Arik's time in Paris in 2010, inspired by Arik's long lasting mentors J.S. Bach, Chopin, Bill Evans and Jack Reilly. "Mostly Ballads" is a CD full of surprises, a true journey through the varied influences of this very talented pianist.
Check out a few samples from the CD
[soundcloud]http://api.soundcloud.com/tracks/72838143[/soundcloud]
[soundcloud]http://api.soundcloud.com/tracks/72850663[/soundcloud]
[soundcloud]http://api.soundcloud.com/tracks/72851158[/soundcloud]